Yesterday I got a text from a friend, "El Som!" to which I replied "When?" and she answered "NOW!" so, because it was 8pm and that's practically bedtime, I told #4 I was going out because I could, and didn't know when I'd be back. I felt so…I'm not sure of the word…FREE (? is that it? It felt strange to not consult with anyone about it). El Som is the local name for a local Mexican place called El Sombrero. It has 3 incarnations: RailRoad Tracks, Little, and Taj Mahal. The first is the Original El Som, located…yes, by railroad tracks. Little is in a strip mall, and is…right. Very small. Taj Mahal is Very Fancy with a big copper dome and terrible acoustics.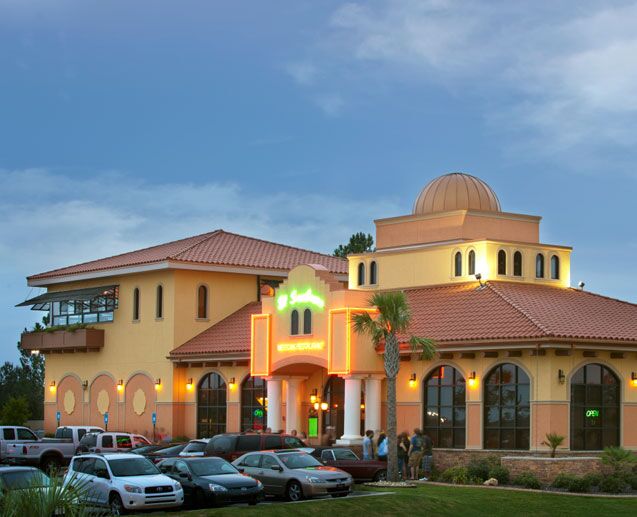 Anyway,
I showed up before everyone else because I had a 10 minute drive and they had a 20 minute one including children and a fluid sense of time, and secured a table for 8, right after which I received a text and was informed a few others were showing up. No problem,said the Hostess, "those people will be leaving soon and we could slide one of their tables over." "Those people" were 4 Europeans sprawled all over a table for 8, and they were obviously indulging in that delightful European style evening repast thing that lasts for hours. I was pretty sure they weren't leaving soon, and my inherent Scottish pragmatism was mildly uncomfortable with the uncertainty, so I ordered a margarita while waiting for everyone else.
Eventually everyone showed up, and one of them (who is more of a Free Thinker than I am, and unafraid to demand the extra table) secured that extra table, complete with irritated looks from Europeans. One of the extra people about whom I was informed after getting there was a tall and attractive blonde woman who was explaining her embarrasment at an event in the grocery store earlier that day. Apparently she'd been not paying attention and had cut someone off in the aisle. (I've done that, one gets deep into one's head and doesn't see the people.) I looked at her, Shocked and Disapproving, and said "THAT WAS YOU". She returned the shocked look and stuttered "I thought you looked familiar!" to which I replied "not really…I wasn't at the store."  Himself used to hate it when I did that…but my filter left when he did.  And she took it with good humor, with her husband and niece thinking it was pretty funny.
Afterward we went to a house Far, Far Away and enjoyed a bonfire, young-ish boys (8 and 9) waving burning sticks around and attempting to set each other on fire (ok not really, but it nearly happened a couple of times), and hammock hi-jinks. (Ok I haven't seen or heard that term "hi-jinks" since the '80's). Getting home at 1 meant #4 was standing by the gate at the driveway, looking at me. He didn't say it but I felt it. "Young lady, where have you been?" (You're not the boss of me)  "Are you sober?" (Duh.)  And I thought "Oh my word. I had a good time. I wasn't accountable to anyone but myself and even if something did happen to me, my kids are all old enough to take care of themselves."
That's the thing…my kids are all old enough to take care of themselves. I can go out and do (whatever) without checking with anyone. I even have clothes that I can throw on and look halfway decent.  I can sleep late the next morning (it's Saturday anyway), eat leftover Brunswick stew for breakfast, and decide what to do, whether it's go sew something (I need a new skirt), or chuck it all and go to the beach (not gonna but just knowing I could is nice). It has been since 1985 that I haven't needed to check or coordinate or consider ramifications before going out at 8pm and staying out until 1. And while I didn't do anything to be embarrassed or ashamed of, I'm feeling a certain frisson about it.  Even with #4 acting like the local Pater Familias, I'm still the boss of this house and can do what I want.
Himself wasn't an autocrat, insisting I consult with him before doing anything, but when you're married, it's what you do: consult with the other one. There were plenty of times he'd tell me on short notice "I have a thing (it could be a late meeting, or a dinner with colleagues) and won't be home." He nearly always prefaced it with "Are you fixing anything special for supper tonight?" It was his very thoughtful way of leading up to the information about the dinner meeting.  Generally I thought "Ok" knowing that was Life with a husband who was in Industry.  But I never felt the particular freedom of simply going out, without asking or consulting or in some way running it by him. He never once complained when I did want to go out, but I was uncomfortable with the idea. But now? Well, what a difference. It's a whole new thing. It's not a BETTER thing, it's just a different thing. Plusses and Minuses, you know.  Just the other day I was whining about not having my Person with whom I shared memories and could travel. Definitely a minus. Going where and when and how I want, no consultation, certainly a plus but not as big as the minus. I don't think anything will ever be big enough a plus to balance that giant Minus. But, I'm going to look for plusses where I can find them, and midnight bonfires and watching people in hammocks startle small dogs, and young boys playing with dangerous flaming sticks are sweet little plusses.